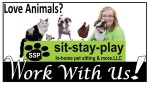 Our Pet Care Company is Growing!
Are you looking for job in the pet care industry in the Muncie, Anderson, Indianapolis or east central Indiana area? Click APPLICATION to start the process with us!
What We're Looking For
We're looking for outgoing and compassionate animal lovers to join our team of Pet Care Professionals to help us care for pets and expand our business.
The Right Candidate Can Be:  
a stay-at-home mom or dad
an introvert or extrovert
a college student
a working professional that loves animals
a retiree
a marketing guru
a creative genius
someone that wants to be in charge of their own earnings and run their own show!
The Right Candidate
Will have a huge love for animals and a commitment to making their lives better is of utmost importance
Should be comfortable working with animals of all types
Will have experience handling a variety of animals
Will be trustworthy and dependable because our clients depend on us to keep their pets safe, happy and healthy while they're away from home
Will have a clean background check to work one-on-one with animals. Got a few dings on your report? Well, we STILL might have a position for you
Has a working phone at all times and is able to text and post pictures on our social media outlets
Is familiar with social media and networking. We LOVE sharing what we do with the public and we'd love for you to help us with this
Will have self-motivation! The more you are willing to talk about what you do, the more money you can earn and
Is willing to commit to at least one year with us and be willing to give 110% to helping sit-stay-play be the best PET CARE COMPANY in east central Indiana and other cities we provide pet care to
Additionally, a flexible schedule is a bonus as sometimes we get last-minute calls from clients and if you're able to work, you will be more successful and can make more money.
Candidates must have their own vehicle with current insurance
sit-stay-play In-home pet sitting & more.LLC provides employment in Delaware County, Madison County, east central Indiana and  NOW in South Bend and the Michiana area!
Jobs and careers in the pet care industry are very rewarding for those of us that love animals.
Our client-focused company provides convenient pet care services that are necessary for pet parents AND we provide services that are affordable and dependable.
If you're looking for a job or career where you can help make a difference in lives (humans AND animals), this is a great opportunity.
You'll have the flexibility to work when you want and with the animals you want. Don't like snakes? No problem! Not a fan of chickens or birds at all? That's fine.
If you'd like to be a part of this fun and crazy group of animal-loving people, read on and see if you fit the criteria.
Working with animals not your thing?
Are you a BEHIND THE SCENES type of person or one who likes to keep animals at an arms' length away?
We have other pet-related jobs that might be up your alley.
You can write stories, blogs, conduct interviews, work on advertising or mingle with people during parades and other media events. We're always on the lookout for individuals to help us out in these areas so feel free to send us a message.
Bring your talents to the table and be ready to scoop some poop (if that's your thing!).
To Start The Application Process
Download an APPLICATION and mail it to us at your earliest convenience.
Feel free to send us a message also.
You can include your resume but don't ONLY include your resume or your information will be tossed in the circular file.
Due to the large amount of applications we receive, not every candidate is contacted. If your application and/or resume is what we're looking for, we'll contact you to set up a phone interview.
Positions Available
Pet Sitters
Overnight Pet Sitters
Dog Walkers
Poop Scoopers
Farm Sitters
Media Personnel (for blogs, newsletters, advertising) and
Public Relations (for parades, fairs, exhibits)
Check out these perks! If we think you'll be a good fit with us we'll provide you with marketing material including business cards, flyers and posters that you're welcome to use. You'll receive recognition on our web site and other social media outlets.