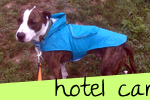 You don't have to leave your pet behind when you travel. We provide pet care in your hotel AND we can travel with you to provide pet care while you're enjoying the trip. If you're getting married or have a vacation planned, rest assured, sit-stay-play can take care of the pet duties and you can relax.
Should you travel to our area and need someone to care for your pet while you're attending a Ball State game, having dinner with family or friends or taking in some of the sights around town, sit-stay-play In-home pet sitting.LLC can provide safe and secure hotel pet care in your hotel room.
Two pet-friendly hotels in Muncie include The Signature Inn, 3400 N. Chadam Lane and The Lee's Inn at 3302 N. Everbrook Lane. Both are close to the campus of Ball State University and are familiar with our services.
Hotel Pet Care is similar to in-home
pet sitting services
 where we provide food, water, security and treats while you're away. While you're gone we will stay in your hotel room for a pre-determined amount of time or pop in for occasional visits, whichever you determine is best for your pet. Your pet will get exercise and lots of attention and we'll administer medication or other special services if your pet requires.
sit-stay-play In-home pet sitting & more.LLC is insured and bonded.
1 pet – $16 per hour
2 pets – $21 per hour
3 pets – $23 per hour
4 pets – $25 per hour
Potty break visits (15 minutes each) can also be scheduled at the rate of $20 per visit.
*Consultation is required and paperwork is to be completed before services can begin. All rates are hourly. Two hour minimum charge except for potty break visits. For reservations between 10:00 p.m. and 6:00 a.m. we require an additional $2 per hour charge. Cancellations require 24 hour advanced notice. Reservations can be made by contacting 765-744-5688 or by sending us an e-mail. Holidays require additional surcharge.
Pet Care Travel Fees are individually priced. Please contact us for details.
***Please contact us for current pricing. All rates & services listed are subject to change without notice.
sit-stay-play In-home pet sitting & more.LLC
2020 E. Lowell Street
Muncie, IN 47303
Telephone: 765-744-5688
Web site: www.sit-stay-play.com
E-mail: kelley@sit-stay-play.com